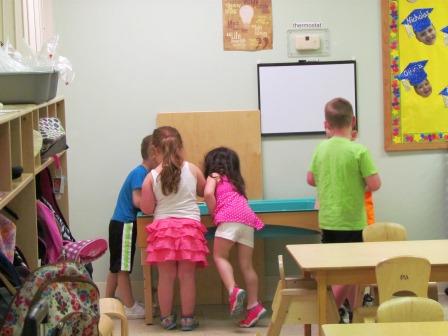 With the frequency of children who are diagnosed with autism increasing (approximately 1 in 88 births), the chances that your child meet someone in their school career with the disorder is highly probable.  This is a reason to encourage integrated learning.  The full range of preschool behaviors is on display in our integrated classrooms, allowing children to work on coping with external distractions, in addition to managing their own internal distractions. This allows them to develop adaptive skills that will prepare them for learning in an environment where others may learn differently from them.
At the core of Newmeadow's services is the Bridges Applied Behavior Analysis program.  Using our specific ABA techniques, the children are put into situations where they are not allowed to fail.  Interfering behaviors are redirected to something appropriate and functional to learning and mastering skills.  Every activity of our day-to-day schedule with the children focuses on development of communication, social and play skills.  Every day we strive to help prepare children for what they will encounter in the larger world when they leave Newmeadow.  We have seen all levels of ability improve in our program and benefit by attending Newmeadow.
Some of the questions you need to ask yourself when considering a program for your child:
Has the program your child is enrolled in been effective?
How are the activities planned?
Are the schedules and daily routines predictable?
Does your child receive the individual attention they need?
Is there data measuring my child's progress?
Will my child's progress and behavior be closely observed and recorded?
Will my child be given tasks and rewards that are individually motivating?
Does the environment design minimize distraction?
Does the program prepare me to continue the therapy at home?
Do the cost, time commitment and location of the program meet my needs?
How many children who have graduated from the program gone on to regular school? How have they performed?