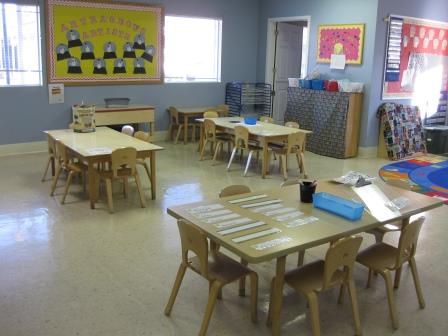 Newmeadow's classes are focused primarily on developing kindergarten-readiness skills. We foster individual growth, in addition to encouraging the children to participate as part of a greater social community. We strive to develop social and interactive skills, such as engaging in cooperative and appropriate play with others. Understanding, respect, and empathy is also encouraged.
The full range of preschool behaviors is on display in our integrated classrooms, allowing children to work on coping with external distractions, in addition to managing their own internal distractions. This allows them to develop adaptive skills that will prepare them for learning in an environment where others may learn differently from them.
By using Bridges ABA (applied behavior analysis) as our teaching method, children are encouraged to behave properly in every setting. ABA ensures that appropriate behavior is reinforced and inappropriate behavior is ignored and redirected to an appropriate activity.
The foundation of Bridges ABA is the 3-Step Teaching Technique:
The teacher gives the child a directive. If the child is successful, he or she is presented with an effective reinforcement and/or showered with praise.
If the child is not successful, the teacher will model the correct response while verbally prompting the child to demonstrate the correct response. If the child is successful, he or she is praised with a modulated voice.
If the child is not successful, the teacher will verbally and physically prompt the child to complete the task successfully.
In addition to being used as a behavioral model, ABA also functions as a way to present goal acquisition in the most simple and finite form in order to help children leap in understanding between words and concepts.
Our unique educational model provides for an enriched environment, where highly trained professionals in the fields of speech/language, motor, and behavior serve by their very presence and as a research and role model to teachers and aides in the classroom.