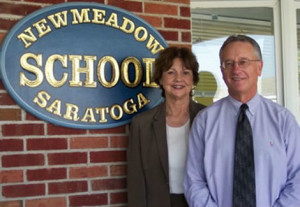 Newmeadow is an integrated preschool located in upstate New York whose mission is to transform the lives of children, including those with autism and other special needs.
Founded in 1982 by Dr. Thomas and Donna Funiciello in Glenville, New York, the school has now reached three decades of service to children and families of the Capital Region, and celebrated its 30-year anniversary in 2012.
From a modest beginning with 13 children and one class, it has provided for thousands of preschoolers with a wide range of special needs. Newmeadow has responded to Autism with a complete program of applied behavior analysis known as Bridges ABA. The school's Bridges ABA techniques have been instrumental in making it one of the premier programs in the region. Bridges ABA is incorporated in all classrooms and all spaces within the school and is utilized with all disabilities (visit Our Program for more information).
In 1998 the school moved to Malta, New York, in the center of fast growing Saratoga County in upstate New York. A second location in Queensbury opened in 2009. At exits 12 and 19 of I-87 respectively, the sites draw 2 to 5-year-old children from a seven county area and 21 school districts.
Newmeadow celebrated a great accomplishment in 2017. On September 5, Newmeadow relocated their Malta site to their brand new, state-of-the-art, 20,000 SF, custom building in the heart of Clifton Park/Halfmoon. Located on Sitterly Road, Newmeadow's 10 classrooms now have a new dedicated Bridges ABA center, an indoor gym, and a large OT/PT Motor room. If this was not enough to celebrate, Newmeadow also relocated their Queensbury site to the Fort Edward school building. They are very excited for their new space and locations. Both sites welcomed children on September 6, 2017!